The last time I didn't join my family on All Saint's day was when I got pregnant. I had a major reason since they said it's bawal daw. And this year, I didn't join my family again. Why? Destination: Sagada.
I posted a Sagada tour on my travel page for October 17-20 but Ira emailed me and wanted to have a schedule for October 31-November 3. OMG! This is business, how can I say No? I arranged the tour.
October 31
After persuading a 1 day leave at work, well I was still on training as a PAS at that time so I wasn't allowed to take any absences, finally he said YES. But it will be considered an absent. That's fine, as long as I can take a day leave from the office.

I woke up early as usual, 3pm, packed my things and got ready to go. I brought 2 green bags full of clothes and travel from Sucat all the way to Cubao. It was traffic since the most were going to the bus stations for the holiday break. I was kinda scared cuz I haven't paid yet, baka maubusan kami ng ticket, although I have made my reservations already.

As early as 6pm, I was surprised arriving soo early seeing only 2 people on the Cable Bus Station aside from the drivers and a so-called cashier. I went straight to Jollibee to have dinner and kill time as well.

7:30pm – went to the station to make payment.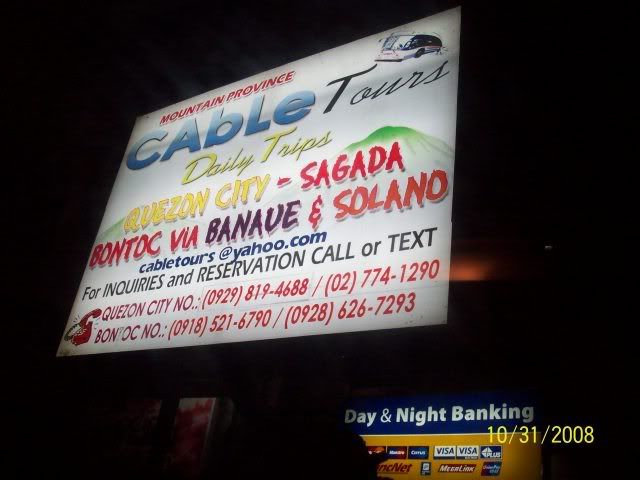 The bus station. It's kinda small, you'll miss it. The only description that you'll make to see it -- It's in front of Trinity University of Asia.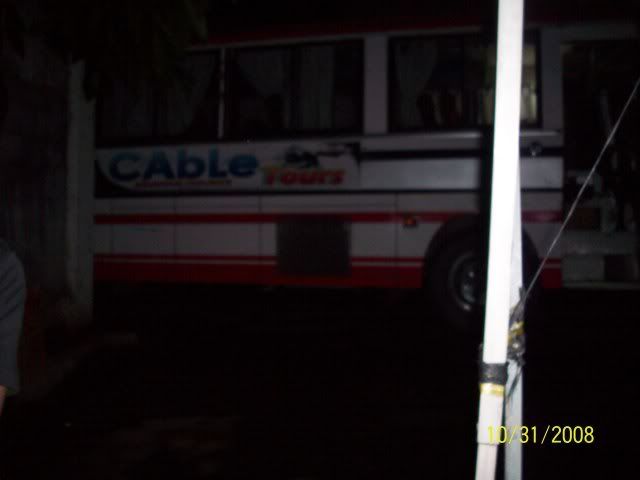 the bus that we took going to Sagada. Kinda dark tho :)

8:00pm – met Ira's group. All of them were related except for the 2 guys which are Ira's officemates

8:30pm – rode the bus, expecting that we will leave the station on time, however, we left the station at 9:03pm. My seatmate was a native and I asked too much questions re Sagada. Well, he was too informative but soon, transferred to the other bus for some reason.
traffic @ NLEX. What can you expect during holidays?
Waking up as early as 5:30am at the bus is better when you get a good view. We were at Banaue at that time and I was kinda hesitant which from the terraces that I saw is the infamous Banaue Rice Terraces.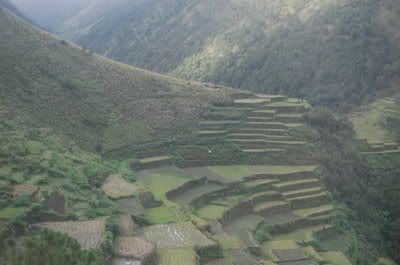 .
banaue rice terraces, not a good view to see houses all over
.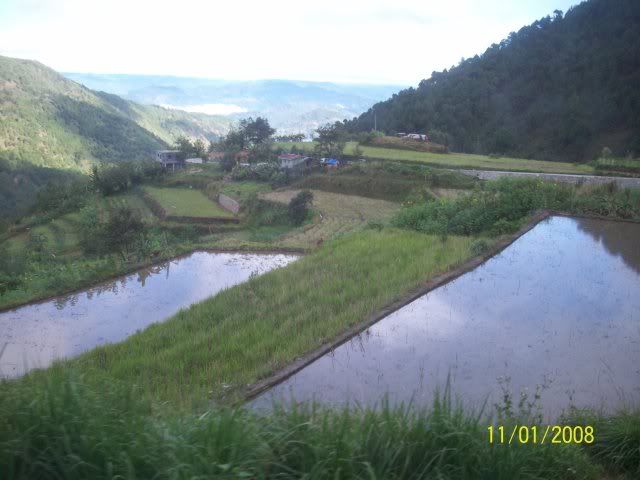 mejo malabo, I was on seated on the other side of the bus :D
and before we knew it, we passed through sooper daming bangin and zigzag roads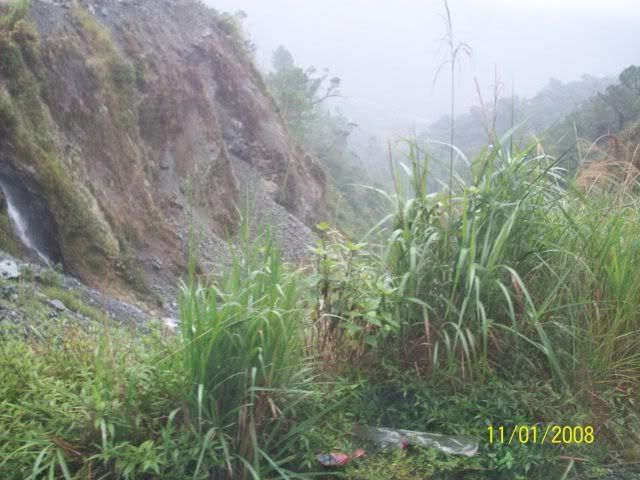 few more steps, laglag ka. :(
one rocky road

9:30am – arrived in Bontoc. Bontoc is like a city next to Sagada. Streets were modernized and there were hotels all over the place.
bontoc town proper.
and their first pic on this tour :)

10:00am – as we waited for the other Cable Bus because two of the boxes were mistakenly transferred to the other bus. We rode a jeep, which didn't look like a jeep bound to Sagada.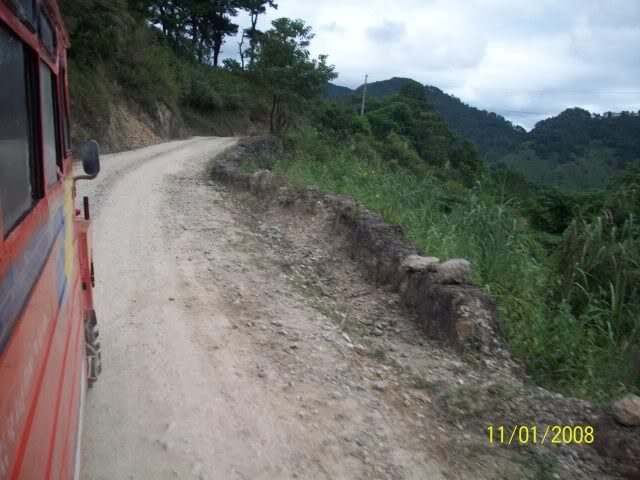 bangin ulit going to Sagada

11:00am – arrived in Sagada. The jeep took us straight to George Guest House. It was Saturday and a market day in Sagada and we were soo crazy seeing some people wearing their bahags. (unfortunately since we had limited time, I wasnt able to take pics of them :()
.
we stayed at the penthouse which is kinda roomy and fit everyone. THe two straight boys stayed at the 3rd floor.
picture taken before going down Bangga-an terraces
As I have talked to my contact persons in Sagada, I finally met my guide, Kuya Andrew. We had our lunch buffet which was prepared by Bana's coffee and filled our starving stomachs with great food.
We rested for a while cuz at 1:30pm, we will start our adventure.