We were amazed by the beauty of the place surrounded by too many rice terraces, so we took pictures from afar and awed how natives did it in the first place. The road were ziggy again as we headed towards the where-is Bangga-an Rice Terraces.
And we stopped to a bus station-like covered stop over where we can have a nice view of the place. Kuya Andrew gave us a brief description of the place with these statements:
"Welcome to Bangga-an Rice Terraces. Pupuntahan natin ang Big falls, Bomod-Ok Falls . Maitanung ko lang, lahat ba dito ay physically fit?"
Upon hearing these words, I was kinda hesitant if I have to raise my hands and suggest not to go anymore. But then again, go pa rin ako. Then hearing the next statements from our guide made me refused again.
"Mula dito, andun ang falls (pointing to the farthest that my eyes could reach) at dadaan tayo sa mga rice terraces na ito para makarating dun" Napalunok na lang ako. And we started the trek.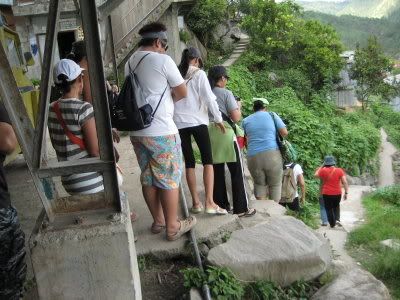 At first we were all having fun taking pictures and such until my legs hurt a lil bit, I started to feel the pain already. Whoo, I realized we still had a long way to go upon seeing the huge rice fields in front of me. First time I had experience in my life walking in a man-made terraces!
We passed a village and my heavy breathing started already. I started feeling an asthma attack is about to grow. The village is kinda small and you will wonder how these people stayed too far from many when for an instance, there's someone to be hospitalized, you have to pass the pilapil before getting to the main street! Geez, soo amazing!
..And we started to walk again. We passed this very steep dirt and I slipped. I was really afraid cuz the next thing in front of me is bangin. OMG, I don't wanna die. Not yet!. Bawal ang pahinga so even though my feet really hurts and my muscles started to snap.
We heard water flowing nearby and thought that we were near the falls. No! we were wrong! Oh boy, a long walk again.. And finally, tired, exhausted and find another word in the dictionary to describe how TIRED we were, we have reached a beautiful spot – the falls.
I haven't seen such a beauty in my life. We were awed by God's creature hidden by the mountains. You see, we were walking 3 kilometers and any signs of the falls weren't obvious while we were hiking. It was just there. I was sitting on the rocks feeling the cold moist of the place. Damn, it was all soo good. My guests were all enjoying the water. Tita's were having their foot massage by the native kid who knew everything about acupressure, and me, I was just feeling everything.
After 30 minutes, we started walking again. Another 3 kilometers of stress and my legs were really hurting. My classmate Noreen (classmate sa pagod), were hiking on my back while the rest were heading up. I wanna see the bus station. But we were really far from there. Until we reached the village, woohooooooooo. Onti na lang.
I almost cried to see we almost made it. As I have seen the bus station, we rested many times and though my ankle wasn't helping me at all, I just need to follow what others were doing. Walk forever.. Cuz I won't walk that far ANYMORE.
check out how we walked hard just to get there.