As I checked on www.cebupacificair.com about fares on going to Cebu, Jan confirmed that he will go too. He offered their place for us to stay so coolness, we have an instant free accomodation. Then I planned the trip.

I was about to go to Taipei with my family but for some reasons, we changed plans. So I guess, ahmm, to give way on this trip ;), Fawk. I got my scheduled right.

And I got this:

Outbound Travel
5J571 Manila Cebu Thu, 17 Jan Depart 5:40 PM
Arrive 6:55 PM
Inbound Travel
5J560 Cebu Manila Mon, 21 Jan Depart 6:35 AM
Arrive 7:50 AM

..and I'm ready to fly...





at the ticketing office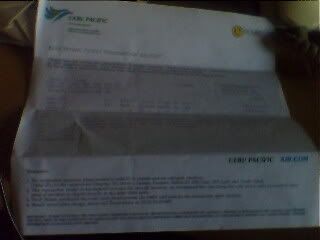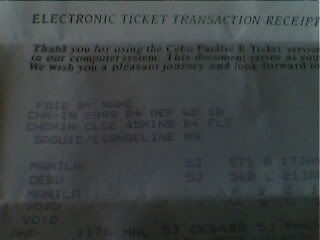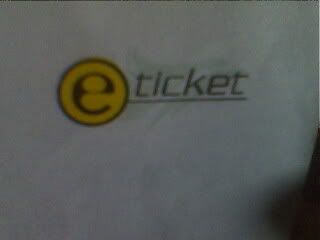 my e-ticket